Article marketing is by far the best strategy for marketing any website online. The tools here will help you create content as well as help you distribute that content across the web.

Nuance produces a speech recognition software called Dragon Naturally Speaking. I personally hate to write, but I love to talk. This program allows me to produce several articles every hour. All I do is speak into the microphone from the headset that is provided with the program and instantly my words turn into text. I am able to talk to the computer in my normal voice at a normal speed and it miraculously recognizes what I'm saying and puts it to words right in front of my eyes. There are also many other features like controlling your computer, browsing the web, managing your e-mails and much more, but I personally use it just for the speech to text function. This is the best money I have ever spent to simplify my article writing
TribePro recently exploded onto the online marketplace. I am having a phenomenal amount of success with TribePro. Seriously, the stuff I've been able to accomplish with Tribe Pro is insane! (in terms of traffic & lead generation, crazy results) Social media is huge! It's bigger than ever right now, and TribePro is like social media on steroids. It will allow you to build social buzz around your online brand, business opportunity and or product. TribePro is an online content syndication network. It allows you to gain crazy amounts of traffic and backlinks for your content. Basically, Tribe Pro gets your content shared on a whole bunch of social websites. Bookmarking sites, social networking sites and so on. most important, it makes it look natural to Google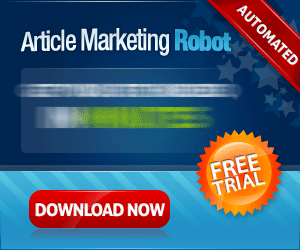 In my opinion Article Marketing Robot is the best article submission and article spinning software that you can find on the Internet. Articles being the majority source of traffic to all my different websites. Without this program I would not be able to have the success that I have had generating traffic using article marketing. It would have taken me months to do what I can do in one hour with this program. This is a phenomenal piece of software that I personally use every single day and you should also. I write my article one time then I uploaded them to AMR, the software then takes my article and produces several hundred unique articles from that one document. It then admits all the different articles to the different article directories for me. Like I said if I had to write 1,000+ individual articles and then individually submit them to the 1,000+ different directories I would be here for months if it wasn't for Article Marketing Robot
The best spinner is one of the great programs that truly lives up to its name. Without this little piece of software I would not be able to do what I do with article marketing. This software by itself eliminates the problem of getting penalized by Google from duplicate content. with the new panda algorithm update from Google, it is now more more important than the before to have original content on the web. There are so many features that make me love this program, but I think the main reason why I feel this is the "best of the best" is because of the built-in thesaurus that is updated daily by REAL USERS writing real articles. In order to generate hundreds of unique articles with the click of a mouse and have teem indexed by the search engines you absolutely need this software. After my article is indexed on my personal websites for at least two weeks, I then spin it with this program and submit it to all the article directories with Article Marketing Robot.
This is a free program that allows you to submit your different articles to different blogs as a way of generating back links. They also include a free article spinner for you to generate unique articles to submit to the different blogs. I use this program mainly to produce one way back links to my websites as well as to the different articles I have submitted. I get 60 back links per article that I submit. I like this program because it's free, easy to use and gives you a steady stream of back links. You never want to accumulate too many back links out once otherwise Google will sandbox your website. The proper way to do it is with a slow trickle of links like the way it is set up here in Free Traffic System. Giving you a few back links every day until it is submitted to 30 blogs.
My Article Network is very similar to Free Traffic System only on steroids. This program will greatly enhance the long-term effectiveness of your article marketing strategy. You also only just copy the article into the system than the service distributes the articles through their exclusive network gradually for as long as they remain within their system. When you get your articles and websites to page 1 within Google using Automatic Article Submitter I then use this program to keep my articles and websites there. This gives you a slow trickle of back links every single day so you don't get penalized by Google. As long as I don't remove the articles from the system they continue to get back links and have my content distributed. Many of my pages were able to get several hundred back links just from one article. This tool is amazing and is probably why I upload every single one of my articles to it