5K in 30 Days – The Interviews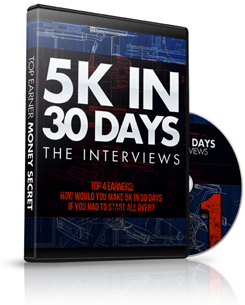 These are the 3 Interviews that will change your business (and your life!). We took 4 of our EMT members, which are the best of the best inside of MLSP, and we asked them the ONE pressing question you would ask them if you were able to sit one-on-one with these leaders…
"If your son, daughter, wife, husband, sibling, or loved one was diagnosed with terminal cancer and you had togenerate $5,000 with your business in the next 30 days so that you could buy the antidote or else, how would you do it if… You had to start all over from scratch with NO list, NO JV partners, NO previous success, NO real budget for marketing, NOTHING! How would you guarantee you make $5,000 in the next 30 days with YOUR business?!"
And then we hit the record button, and what happened next was magical and was captured in these 3 explosive interviews with MLSP's very own Rob Fore (best SEO guy in our niche), Mark Harbert & the Bluesman of MLM(best video guys online), and Michelle Pescosolido (best FaceBook marketer alive).
These are mastermind videos that will change the way you think about marketing forever. For the price of these interviews, you would be absolutely insane to not PICK UP THESE INTERVIEWS RIGHT NOW and add them to your digital training library.
BONUS #1) Bluesman's Keyword Research Secret Weapon – an intense 2-hour training where Frank Marino's 100% FREE tool that tells you if your videos will rank for specific keywords before you even get started. ($297 Value)
BONUS #2) Mark Harbert's Sneaky Video Tips & Tricks – a full 1 hour training showing you exactly how Mark got1,200 leads, 36 sign-ups, and banked $5,000 from just ONE video! ($297 Value)
Its Time To STOP Struggling With Your Online Marketing!
Discover A Simple System You Can Start Using Right Away And Educate Yourself to Generate More Leads, Position Yourself As a Leader, Create Immediate Cashflow AND Build Your "Online" or "Brick and Mortar" Business on Auto-Pilot...